Raksha Bandhan, the celebration of the sacred bond between siblings, is a time-honoured tradition in India. It's a day when siblings come together to express their love and commitment to each other. While Rakhi tying is the central ritual, exchanging gifts is equally significant. This Raksha Bandhan, why not gift your sister something that embodies the essence of Indian culture and heritage? A handloom saree is a timeless choice that not only reflects our rich traditions but also adds a touch of elegance to your wardrobe.
Handloom sarees have been an integral part of Indian textile heritage for centuries. They are a testament to the craftsmanship and skill of weavers across the country. These sarees not only showcase the diversity of Indian textiles but also make for meaningful and cherished presents. Here are some top handloom saree picks that are perfect for gifting your sister on Raksha Bandhan.
Banarasi Silk Saree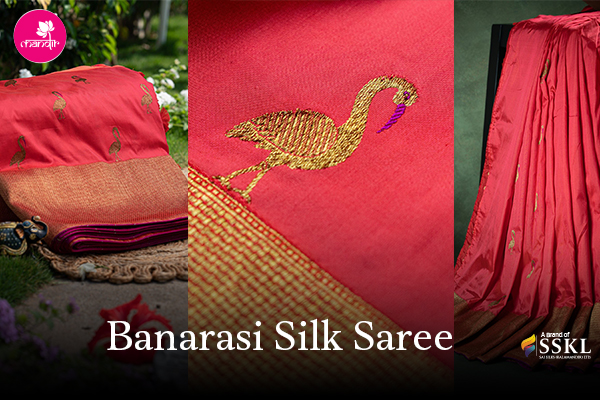 Banarasi sarees are the epitome of opulence and grandeur. Originating from Varanasi, these sarees are known for their intricate zari work and rich silk fabric. They often feature designs inspired by Mughal art, such as floral motifs and intricate brocade work. Gifting your sister a Banarasi silk saree is a good option to cherish our history and artistry. These sarees come in a range of colours, making it easy to find one that suits her style and personality. Whether it's a vibrant red or a subtle pastel shade, a Banarasi silk saree will make her feel like royalty on Raksha Bandhan.
Kanchipuram Silk Saree
Hailing from the southern state of Tamil Nadu, Kanchipuram silk sarees are known for their exquisite craftsmanship and vibrant colours. These sarees are characterized by their heavy silk fabric and traditional temple designs on the border and pallu. The rich texture and intricate patterns make Kanjivaram sarees a favourite choice for weddings and special occasions. By gifting your sister a Kanjivaram silk saree, you're giving her a timeless piece of South Indian heritage. The sheer grandeur of these sarees ensures that she'll stand out whenever she wears them.
Paithani Saree
Originating from Maharashtra, Paithani sarees are renowned for their unique peacock and lotus motifs. These sarees are typically made from fine silk and adorned with intricate zari work. Paithani sarees are a perfect blend of tradition and elegance. They are a symbol of the rich cultural heritage of Maharashtra. Gifting your sister a Paithani saree is not just about giving her a beautiful garment but also about celebrating the artistry of Maharashtrian weavers. The vibrant colours and detailed designs of a Paithani saree make it a cherished possession for any woman.
Chanderi Saree
Chanderi sarees, originating from Madhya Pradesh, are known for their sheer texture and delicate patterns. These sarees are often woven with a mix of silk and cotton threads, making them lightweight and comfortable to wear. Chanderi sarees are perfect for the Indian summer, as they offer both style and comfort. They usually feature traditional motifs like peacocks, coins, and floral designs. Gifting your sister a Chanderi saree is a thoughtful choice, especially if she prefers understated elegance. These sarees are versatile and can be worn on various occasions, making it a practical addition to her wardrobe.
Jamdani Saree
Hailing from the looms of West Bengal and Bangladesh, Jamdani sarees are known for their fine muslin fabric and intricate handwoven patterns. These sarees are characterized by their lightweight and airy feel, making them suitable for both casual and formal wear. Jamdani sarees often feature floral motifs, geometric designs, or scenes from nature. Gifting your sister a Jamdani saree is like giving her a piece of poetry in fabric. The painstaking craftsmanship involved in creating these sarees is a testament to the dedication of the weavers. A Jamdani saree will not only make your sister look graceful but also connect her to the rich weaving traditions of Bengal.
This Raksha Bandhan, go beyond conventional gifts and give your sister something that reflects the depth of your relationship and the richness of Indian culture. Handloom sarees are not merely garments; they are pieces of art that carry with them the stories and traditions of our country. Each of the handloom sarees mentioned above is a testament to the skill and dedication of Indian weavers.
When you gift your sister a handloom saree, you are not just giving her clothing; you are giving her a piece of heritage and a symbol of your love and appreciation. So, choose one that resonates with her style and personality, and watch her eyes light up with joy as she unwraps the essence of culture this Raksha Bandhan. In doing so, you not only celebrate the bond between siblings but also support the talented artisans who keep India's handloom traditions alive.