Each day of Navratri is signified with a specific colour, which leads devotees to wear that colour on the day to point out commonality and please the goddess.  Adorn the 9-colours of Navratri in white, red, royal blue, yellow, green, grey, orange, peacock green, and pink sarees specially curated for the festive season.
The 9 nights of Navratri are dedicated to the Divine Mother or Shakti. Navratri is a celebration of triumph over negativity.  Throughout these nine nights, the 3 divine goddesses Durga, Lakshmi, and Saraswathi are worshipped. These nine days denote the waking up of Divinity — that doesn't negate anything, nonetheless nurtures the nice qualities.
It's that point of the year where the festivities begin to throb and there are celebrations galore all across the country. With Durga Puja, celebrate Navratra with a nice eclat and show. The initial 3 days are dedicated to Durga, the consequent three to Lakshmi, and the last three to Saraswathi. On the tenth day, Vijayadashami signifies the overcome of these three aspects of life.
9 forms of Durga ma, Know the significance of each one!
Day 1- Dedicated to Goddess Shailaputri wearing white saree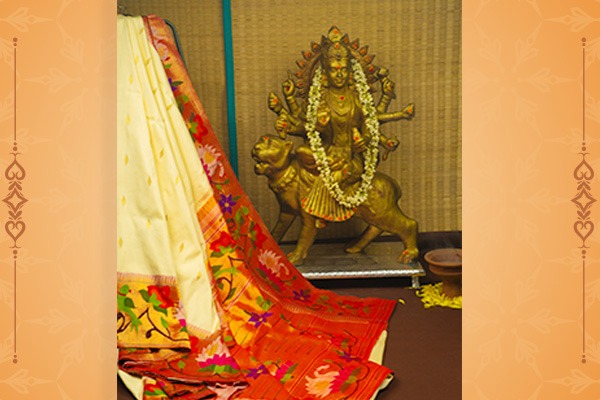 A form of Parvati, and daughter to Raja Himavan (the king of the mountains). The pictorial depiction ideally shows the goddess to be mounted on a bull and a Trishul in hand.
The colour of peace and serenity 'white' is worn on this day to worship the goddess. You can choose from a wide variety of white Paithani or Banarasi drapes from our Dussehra special sarees.
Day 2- Dedicated to Goddess Brahmacharini wearing red saree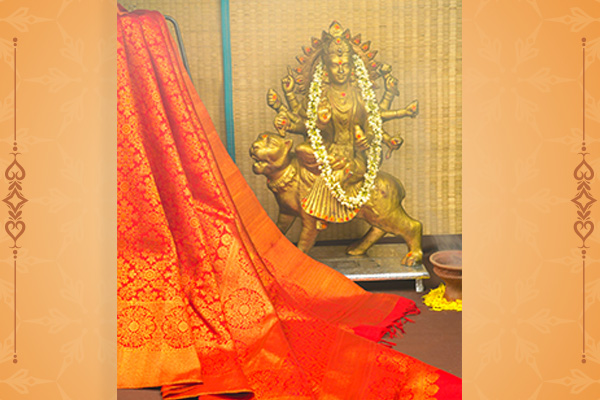 She signifies loyalty and wisdom as she adorns herself with rudraksha. This deity is the epitome of love. 'Brahma' means divine consciousness, in addition to achar (behavior), worship this goddess in red Kanchipuram or Venkatagiri saree that symbolizes infinite courage, intense passion and love. Choose from an infinite range of Dussehra sarees available at us.
Day 3- Dedicated to Goddess Chandraghanta wearing royal blue saree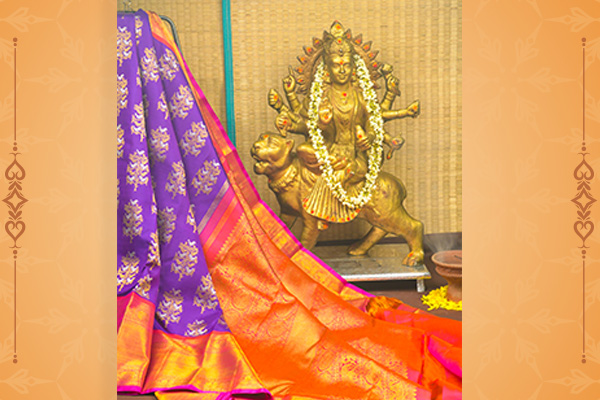 The day worships deity Chandraganta who is delineated as bearing a 'Chandra' or moon around her head. Known for her bravery, grace, and courage, she is also the most powerful.
Royal blue is a significant colour to mark the auspiciousness of the third day.
Day 4- Dedicated to Goddess Kushmanda wearing yellow saree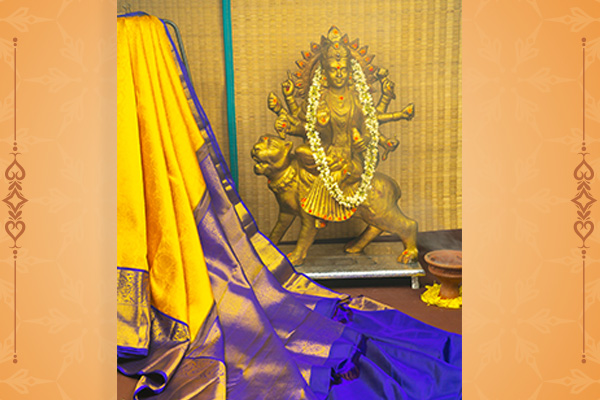 Goddess Kushmanda, also known as Ashtabhuja Devi has eight hands. As her name signifies the creation of the cosmic universe from a divine egg, she mounts on a tiger.
The yellow colour represents the celebration of the 4th day as it stands for happiness and brightness.
Day 5- Dedicated to Goddess Skandamata wearing green saree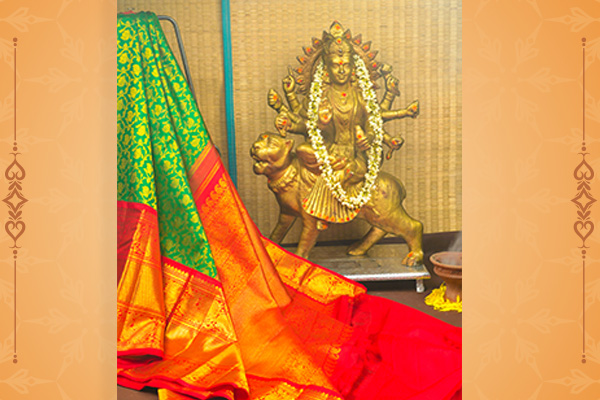 Commander in chief to fight the war against evil, Goddess Skandamata is also known as the mother of Lord Kartikey or Skanda.
Mark the auspiciousness of this day in a green colour ensemble from our special Navratri sarees.
Day 6- Dedicated to Goddess Katyayani weaning grey saree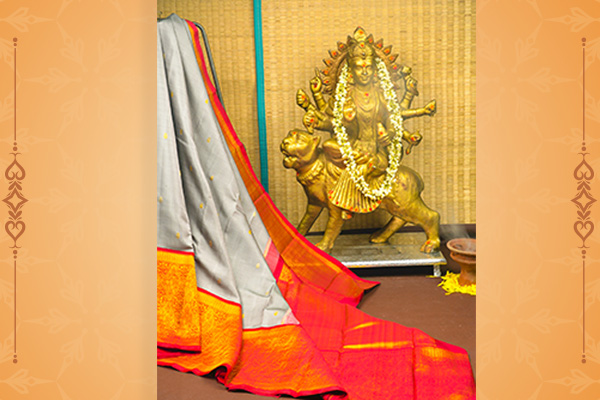 While draped in grey, she emits immense courage. As a result, grey has become the colour of the day, which represents balanced emotions and keeps the person down-to-earth.
Day 7- Dedicated to Goddess Kalaratri wearing orange saree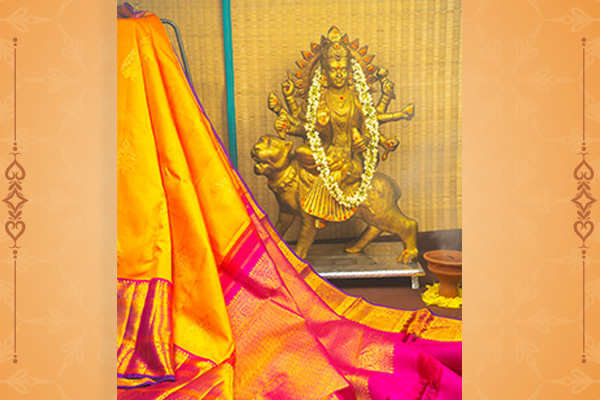 The colour of this day is orange, which stands for warmth and exuberance.  Goddess Kalaratri exudes a fearless attitude. Her breath produces flames and has 3 eyes resembling Goddess Kali.
Day 8- Dedicated to Goddess Mahagauri wearing peacock green saree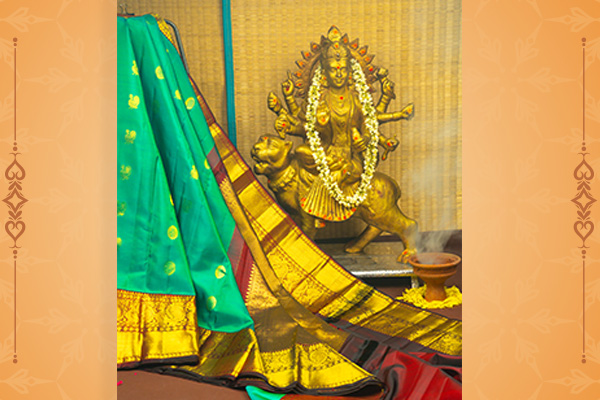 On the 8th day of Navratri young girls are fed with delicious dishes as they are considered to be an avatar of the Goddess. The peacock green colour represents uniqueness and individuality. Grab the chance to stand out in the crowd by choosing your favourites from our Dussehra special sarees.
Day 9- Dedicated to Goddess Siddhidatri wearing pink saree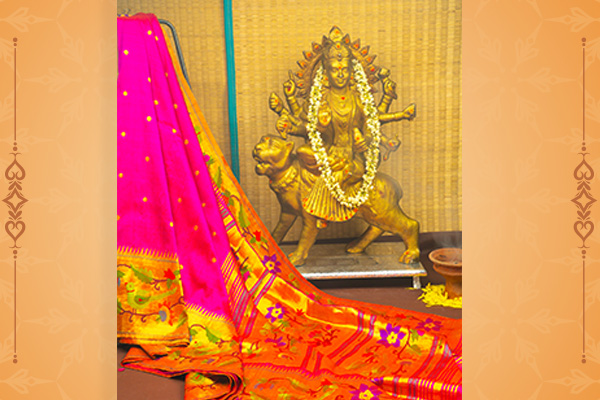 The 9th day is called Navmi and Goddess Siddhidatri takes an avatar. Draped in pink colour, the goddess symbolises affection and feminine charm.
Make Brand Mandir a part of your celebrations and get your hands on exquisite Navratri sarees that have colours and designs suiting all 9 days.