Festivals are some of the most important celebrations of life, and it is a common tradition to embrace traditional clothing styles from different cultures to embody the spirit of the occasion. Ugadi is an auspicious and important festival celebrated across India. It marks the beginning of a new Hindu calendar year and is observed with great enthusiasm by people of all ages. Ugadi might be diverse in its traditional practices, but it brings people all over together as one with good wishes, greetings, and pleasant messages for a better future. It is among the most important festivals for Hindus and marks the spring season in most parts of India.
The word "Ugadi" is derived from Sanskrit, meaning 'beginning of an era.' This day holds great significance in South India as it signals a new cycle of time and space; bringing with it the hope of better days ahead. Ugadi also symbolizes the four values of life – Dharma (righteousness), Kama (desire), Artha (wealth), and Moksha (Salvation).
As Ugadi approaches, the festivities around will lift your spirits. Along with the celebratory feeling, you need to adorn something that makes you stand out on this day, and what better than a classic handloom saree? The beauty of handloom fabrics lies in their intricate craftsmanship, colourful designs, and soft textures that make you look your best on such festive occasions. From Banarasi and Kanchipuram to Pochampallis and Bandhani, the choices of handloom sarees available are sure to catch your eye. To make it easier, we have curated a list of choices that you can wear.
Kanchipuram sarees that knock you out!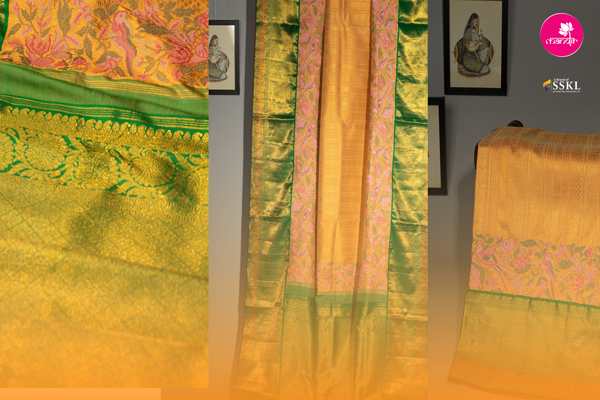 Kanchipuram sarees are an iconic part of South Indian fashion for festivals. During the festive season, nothing can represent the beauty and culture of India better than a Kanchipuram silk saree. With a plethora of colours and designs available, there is something for everyone. So, if you're looking to make a splash at your next festive occasion, why not consider adding a gorgeous Kanchipuram saree to your wardrobe?
Banarasi sarees that add beauty to your day!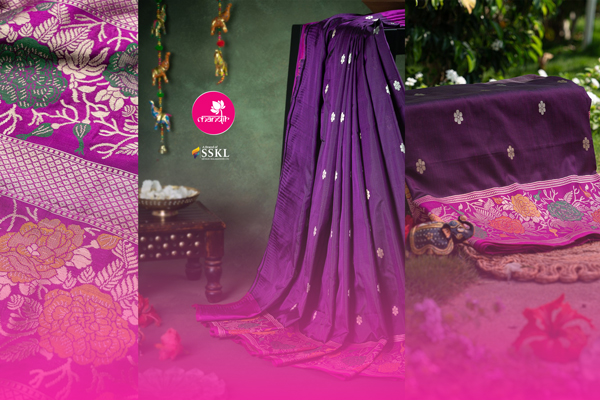 Nothing compares to the beauty of handmade Banarasi sarees for a festive occasion. This special fabric from Varanasi is renowned for its intricate designs and vibrant colours. Banarasi sarees are not only a timeless trend but also carry an emotional attachment that is perfect for the festivities. Whether you are looking for a light, classic georgette saree or an extra-heavy bridal saree with zari borders, there's sure to be something perfect in our selection of banarasi sarees to make your festival more meaningful and memorable.
Paithani sarees that are pretty and precious!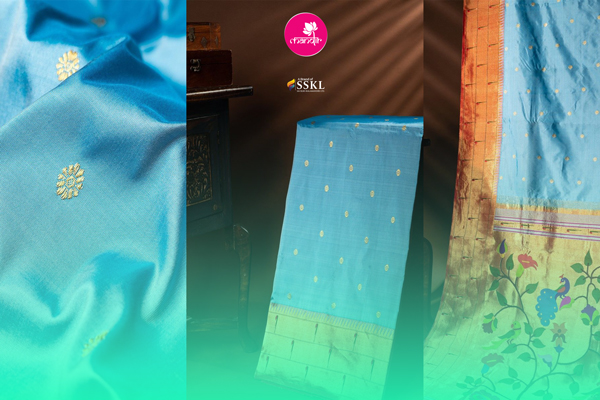 Paithani sarees hold a special place in the hearts of many Indian women thanks to their rich heritage, intricate artwork, and beautiful designs. The perfect ensemble for any festive occasion, these sarees have been an integral part of the Indian wardrobe for ages.
Gadwal sarees that make you look gorgeous!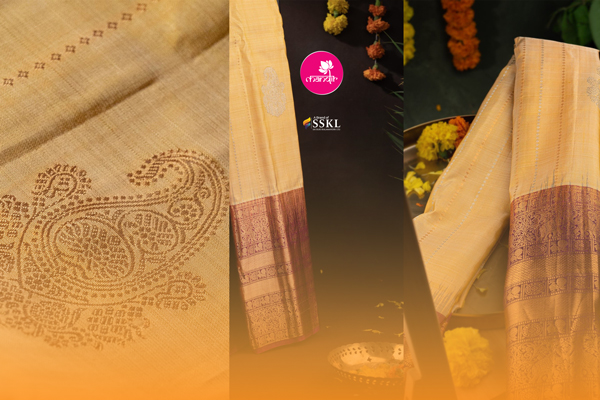 An enduring symbol of elegance and grace, every woman should have one or more in her wardrobe for festive occasions. Traditionally known as the weavers' art, these sarees are renowned for their opulent yet lightweight designs and festive colours. With intricate gold and silver zari work and beautiful handloom motifs like mangoes and parrots decorating them, these sarees will surely make you stand out at any festival!
Whether you are looking for a traditional or contemporary style, there are plenty of options to choose from in handloom sarees for Ugadi celebrations. From gorgeous Banarasi silks to Gadwal Sarees, there is something for everyone! So go ahead and pick the perfect handloom saree from Brand Mandir that will make you festive-ready.