Uncategorized
Sarees for Dussehra: Your One-Stop Shopping Destination!
Sarees for Dussehra: Your One-Stop Shopping Destination!
Dussehra, also known as Vijayadashami, is a vibrant and culturally significant festival celebrated by millions of people in India. It symbolizes the triumph of good over evil, with Lord Rama's victory over the demon king Ravana being the central theme. This festival holds immense cultural and religious importance, and the way people dress during this festival is an integral part of the celebration. Sarees, in particular, play a significant role in Dussehra celebrations, symbolizing the elegance, grace, and beauty of Indian culture. 
The Significance of Dussehra
Dussehra is a festival that holds immense significance in the Indian calendar. It marks the end of the ten-day Navaratri festival, during which people honour the goddess Durga and her various manifestations. The festival culminates with the celebration of Dussehra on the tenth day. This day also symbolizes the triumph of Lord Rama over the ten-headed demon king Ravana, as mentioned in the epic Ramayana. The victory of good over evil is the central theme of this festival, and it is celebrated with great zeal and enthusiasm all across India.
The Significance of Sarees in Dussehra
Sarees are an integral part of Indian culture, and they hold a special place in the hearts of Indian women. Dussehra is an occasion when women dress up in their finest traditional attire to celebrate the festival. Sarees are preferred for this occasion because of their elegance, grace, and the way they enhance the beauty of women. Moreover, they reflect the cultural diversity of India, with each region having its unique styles of sarees.
Handloom Sarees for Dussehra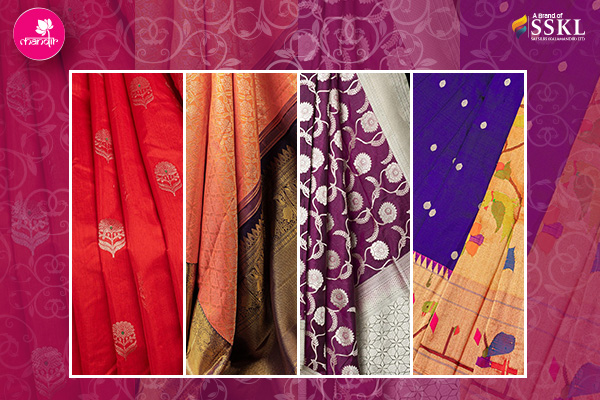 When it comes to choosing a saree for Dussehra, handloom sarees are a popular choice. These sarees are known for their exquisite craftsmanship, intricate designs, and the use of traditional weaving techniques. Handloom sarees are available in a variety of fabrics, such as silk, cotton, and linen. Some popular handloom sarees that can be worn during Dussehra include:
Banarasi Silk Sarees: These sarees are known for their opulent zari work and intricate motifs. They are a perfect choice for special occasions like Dussehra.
Kanjivaram Silk Sarees: These sarees from Tamil Nadu are celebrated for their rich silk and vibrant colours. They are an ideal choice for festive occasions.
Chanderi Sarees: Lightweight and elegant, Chanderi sarees from Madhya Pradesh are perfect for a graceful Dussehra look.
Paithani Sarees: Hailing from Maharashtra, these sarees are known for their beautiful peacock motifs and vibrant colour combinations.
Where to Buy the Best Dussehra Sarees
When shopping for Dussehra sarees, it's essential to choose the right store to ensure you get the best quality and a wide variety of options. Some of the best places for Dussehra saree shopping are:
Kalamandir Royale: Kalamandir Royale is renowned for its exquisite saree collection, offering a mix of traditional and contemporary designs. They are known for their fine craftsmanship and top-notch quality.
Kalamandir: Kalamandir is another trusted name in the world of ethnic wear. With a diverse range of sarees, they are known for their dedication to preserving the heritage of handloom sarees.
Brand Mandir: The brand offers a selection of exclusive sarees for those who appreciate quality and unique designs with a touch of tradition and modernity. Brand Mandir is a great choice for those looking for something special.
KLM: KLM store is a brand that encompasses a variety of ethnic wear, including sarees. Their collection caters to a wide audience, making it easier to find the perfect Dussehra saree.
KanchiVML: Known for its stunning Kanjivaram sarees, KanchiVML is an ideal destination for brides and for those who wish to shine on special occasions in rich and traditional silk sarees.
Dussehra is a festival of triumph and celebration, and choosing the right saree can enhance the joy of this occasion. Sarees not only reflect the cultural diversity of India but also highlight the elegance and grace of Indian women. When it comes to shopping for Dussehra sarees, brands like Kalamandir Royale, Kalamandir, Brand Mandir, KLM, and KanchiVML offer a wide range of exquisite options to help you find the perfect saree that resonates with the significance and beauty of the festival. So, this Dussehra, step out in style and celebrate the victory of good over evil with a stunning handloom saree that reflects our cultural pride and grace.