Bridal sarees are a traditional and elegant choice for a wedding dress. Not only do they look beautiful and sophisticated, but they also have a rich cultural heritage steeped in symbolism.
And if you are a bride-to-be considering wearing a saree on your big day, this article will be perfect for you. We will discuss tips on picking the ideal saree from the many bridal sarees types available for the special day that will make you feel comfortable and confident.
Before discussing how to select a bridal saree and sharing some tips and tricks for bridal saree selection, let us talk about the fabric. Silk sarees are the most popular choice for weddings as it gives a luxurious feel and a beautiful drape to your bridal saree look.
However, other materials like chiffon, georgette, and satin make for beautiful bridal sarees. Choosing a fabric that is comfortable to wear and will not cause irritation or discomfort on your skin is essential.
But ultimately, which material to go with will depend on your comfort, affordability, and design availabilities at the shop or online stores.
Choosing the perfect saree for your wedding can be daunting for a bride. There are so many styles and designs to choose from, and it can be overwhelming to try and pick just one.
And once you are done choosing the material for your saree, here's the proper guidance and careful consideration to help you quickly find the perfect saree for your big day
7 Essential Tips To Help You Pick The Ideal Bridal Saree
#01 Choose A Colour That Will Complement Your Skin Tone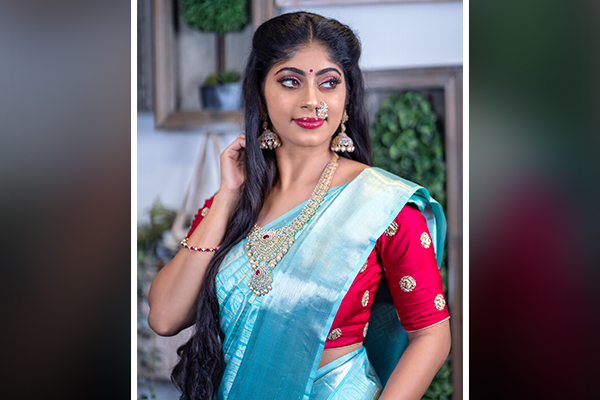 The most popular color for traditional bridal sarees is red because it symbolizes love, passion, and fertility. However, other colors like pink and orange and pastels like lavender and mint green are also becoming popular for bridal sarees.
The color of your saree can make a big difference to how you look on your wedding day, so it's essential to choose a color that complements your skin tone. Hence, choosing a color that complements your skin tone and makes you feel beautiful and confident is essential.
If you have fair skin, opt for bridal sarees pattu in shades of pink, red, or gold. If you have medium skin, try sarees in shades of orange, yellow, or green. And if you have dark skin, consider sarees in shades of blue or purple.
#02 Consider The Season And Location Of Your Wedding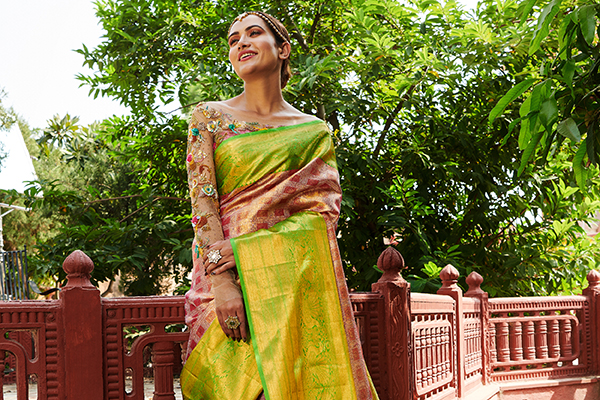 The season and location of your wedding can also play a role in choosing the perfect saree. For example, if you're getting married in the summer, you can choose simple bridal sarees.
Heavier fabrics like silk or velvet from the collection of bridal sarees in Kanchipuram may be more suitable if you're getting married in the winter. And if you're getting married outdoors, choose a saree that won't blow around in the wind.
#03 Think About The Style And Design Of Your Saree
Another essential factor to consider is the design of the saree. There are many styles of bridal sarees to choose from, including traditional methods like the Kanjeevaram and Banarasi, as well as more modern designs like the lehenga saree and the dhoti saree.
The type and layout of your saree should also be considered when choosing the perfect one for your wedding. For example, opt for a saree with heavy embroidery or intricate gold or silver embellishments if you want a traditional look.
If you want a more modern look, try a saree with a simple, sleek design. And if you want a romantic look, consider a saree with delicate lace or floral details.
#04 Take Your Body Type Into Account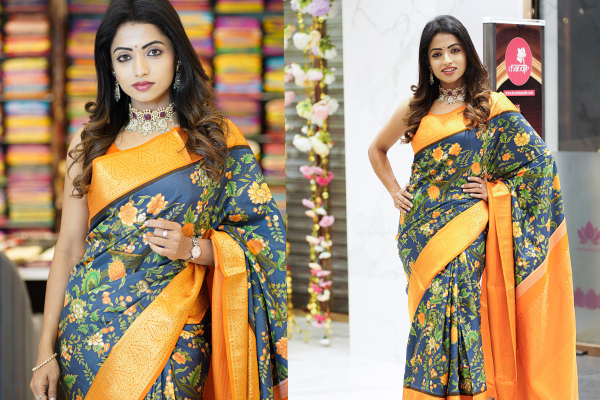 Your body type is another essential factor when choosing a bridal saree. For example, if you're petite, a saree with a lot of fabric and heavy embellishments may overwhelm your frame. Instead, opt for a saree with a slimmer silhouette and fewer embellishments.
You can pull off a saree with more fabric and bolder designs if you're tall and slender. And if you're curvy, choose a saree with a flared cut or an A-line silhouette to flatter your figure.
#05 Pay Attention To The Drape Of The Saree And Accessories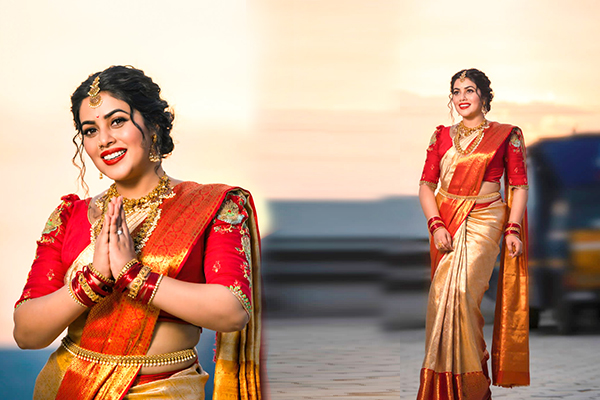 How a saree drapes around your body can make a massive difference to how it appears and feels, so choosing a suitable drape is essential.
If you want a saree that hugs your curves, opt for a tight, fitted drape. If you want a saree that flows and moves with you, choose a saree with a looser, more fluid drape. And if you want a saree that falls straight and flat, try a saree with a box-pleated or ghera drape.
If you are interested in knowing more about draping since it's one of the essential things, search for tips for bridal saree draping, and you will get everything you need.
Once you have chosen the fabric, color, design, and drape of your bridal saree, it is essential to consider the accessories that will complete the look.
The right accessories can add a touch of glamour and elegance to your bridal saree and make you look like a true queen on your special day. Some popular accessories for bridal sarees include statement necklaces, earrings, bangles, and bindis.
#06 Don't Be Afraid To Try On Different Sarees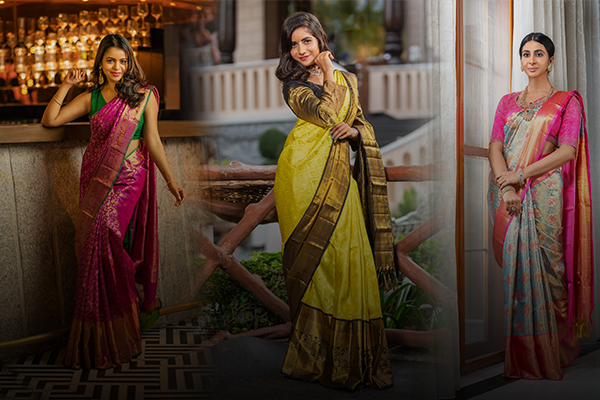 Choosing a saree based on its appearance alone can be tempting, but it's essential to try on other sarees to see how they look and feel on your body.
Try various styles and designs; don't be afraid to step outside your comfort zone. You may be surprised by how a saree you didn't initially love can look stunning.
#07 Consider The Overall Look And Feel Of Your Wedding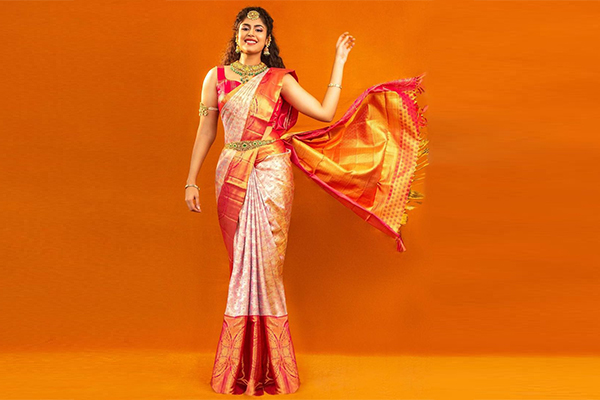 Finally, choosing the perfect bridal saree for your special days will definitely make you look more beautiful and elegant. Additionally, wearing a saree makes you look more confident also.
Conclusion
In conclusion, choosing the perfect bridal saree can be a daunting task. There are many factors to consider, such as the saree's fabric, color, and style.
It's essential to take the time to research and try on different sarees to find the one that is both comfortable and flattering. Additionally, it's a good idea to consult with a bridal consultant or experienced friend to get their input and advice.
Ultimately, the perfect bridal saree should reflect the bride's style and make her feel confident and beautiful on her special day.
And yes, don't forget to buy from the latest wedding sarees collection, as the trend keeps changing yearly. The bridal sarees' latest collection keeps updating in almost every store across India.
Plus, also buy bridal sarees for the reception if you are going to throw a party after your wedding inviting your near and dear ones!